View All Articles
How to Choose and Pack a Backpack to Be Sure It's Safe for Your Child
The summer has flown by, and it's officially back to school time! Children are meeting new teachers, learning new things, and catching up with classmates. With the new year also comes a new list of school supplies, which can be a daunting task for parents. In addition to all the pencils, paper and crayons on that list, choosing the right backpack can make a big difference in the year ahead.
As a pediatric occupational therapist, I work with kids to help them become as independent and successful as they can be in their daily tasks and activities. This includes teaching kids to lift and carry items in the most efficient and safe ways for their bodies. Backpacks are a part of your child's daily school routine, and choosing the right one can affect your child in ways you might not expect.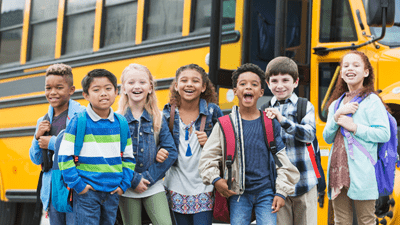 This is so important that the American Occupational Therapy Association hosts a national "Backpack Awareness Day" each September to spread awareness about the proper ways to wear and pack a backpack in order to keep kids healthy and pain free.
Problems from backpacks range from lower back pain to muscle strains, and even bone fractures. As soon as you hear about pain or discomfort from a backpack, it's time to make some changes. Even better, let's equip you to be proactive in choosing the best backpack for your child from the start.
Here's what you can do to make sure your child is set up for success with their backpack this school year:
Time to pack up
A packed backpack should max out at 10 percent of the child's body weight. If your child weighs 80 pounds, the backpack shouldn't have more than 8 pounds of supplies.
A bathroom or grocery store scale is a great way to make sure you are packing light enough.
When arranging the items, heavy books and notebooks should be closest to the child, while lighter items like pencil bags can go in outer pockets.
If your child has one too many books and the backpack is just too heavy, try sorting through the contents and taking out items that aren't needed that day. Another option is picking a heavy item to carry in their hands.

Problems from backpacks range from lower back pain to muscle strains, and even bone fractures.
Picking a backpack and wearing it just right
Backpacks with two padded straps are better for the body than single-strap over-the-shoulder bags. It's important to distribute the weight as evenly as possible on both sides of the body.
Backpacks should be flush against the child's back when they are walking.
Backpacks should be centered on the back, with the bottom of the backpack in line with the waistband of their pants and leaving space for two fingers between the top of the backpack and the top of their shoulders.
Straps are usually adjustable to meet these suggestions, but backpacks come in all sizes, so try a few on to find the right fit.
The whirlwind of back-to-school preparation is always an exciting time, full of last minute purchases and organizing. Taking those extra few minutes to pick the right backpack and teach your child how to both pack and wear it will set them up for a healthy and successful school year.
Are You Interested in Learning More?
Sign up for our e-newsletter for more tips and best practices from pediatricians.
Sign Up Here