Welcome to Orlando Health Arnold Palmer Hospital for Children
Welcome to Orlando Health Arnold Palmer Hospital for Children. When choosing our family-friendly facilities, you gain access to an award-winning children's medical center with more than 30 pediatric specialties, in an environment built just for kids. This map introduces you to the first floor of the hospital, including some favorite spaces, such as the Disney Team of Heroes experiences, the Walt Disney World Grand Atrium, Seacrest Studio, radiology and more. Should you have any questions, please our reception assistants are happy to assist. Want to see more? Click below for a virtual tour.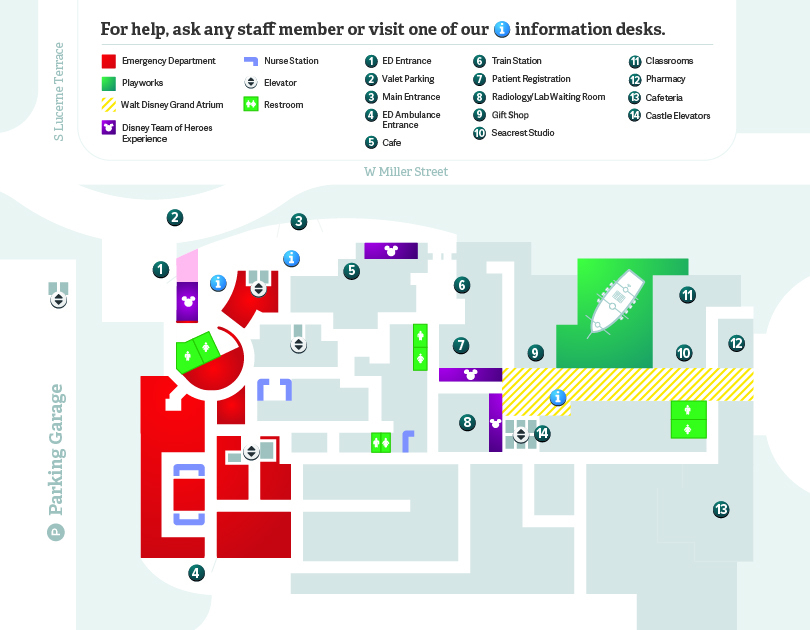 Click here to download the map.
Join Us for a Virtual Tour
We invite you to take a virtual tour of Orlando Health Arnold Palmer, a place of hope and healing. Take a look at our full range of pediatric services dedicated to meeting the unique physical, emotional and developmental needs of children. We are proud to be ranked as a "Best Children's Hospitals by U.S. News & World Report and we encourage you to take a look inside our kid-focused facilities.
Parking
Self parking and valet parking are available.
What to Expect if Your Child Needs Surgery or a Procedure
Hearing your child needs surgery can be a stressful experience. To help manage that anxiety, learn what to expect throughout the whole process. From pre-admission to follow-up, the expert team at Orlando Health Arnold Palmer is here to support your child and family.