View All Articles
Tips for Spring Break Safety
After making it through the bleak winter months, spring break is a much-needed time to relax and enjoy the (hopefully) warm and sunny weather. Despite the excitement this vacation brings, traditional spring break trips and activities also can be dangerous or even deadly. Whether your family is going on vacation, headed to the beach or enjoying the great outdoors from your backyard, here are some tips to keep your children safe during spring break.
Protect Kids from the Sun
The most common health risk during spring break is sunburn. Whether you're at the beach or spending an afternoon at the pool, it's important to remember that sunburn can happen fast. While sunscreen is always important, first think about ways you can minimize your kids' exposure to the sun. Choosing shady areas to relax in or bringing a large umbrella to the beach will help protect children's sensitize skin from UV rays. Dressing babies and toddlers in hats with brims will keep sun from beating down on their sensitive faces.

Remember: Any exposed skin can burn, from direct or indirect sunlight. So even when exposure is minimized, sunscreen always should be applied to babies and children of all ages. A broad-spectrum, zinc or titanium-based sunscreen with an SPF of at least 30 is best. It's also recommended to reapply sunscreen every 2 hours or more often if your child is sweating or swimming.
Emphasize Water Safety
Unfortunately, every spring break, the number of deaths by drowning increases around the country.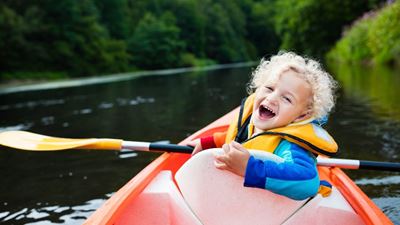 Whether it's a beach, lake, pool, hot tub or shallow wading pool, water can pose a hazard to both children and adults. That's why it's vital to be vigilant about watching your children near any open water, particularly if you or other parents are busy socializing and/or impaired by alcohol. Even for those who know how to swim, drowning can happen quickly. There will likely be no noise, flailing or splashing.

Whenever possible, seek out beaches with lifeguards on duty and always stay in designated swimming areas. Riptides can carry away even the strongest of adults, and no one is a match for nearby boaters who could be impaired. However, lifeguards shouldn't be relied upon to watch your child, especially as pools and beaches are often packed with visitors during spring break.

It's also vital to use appropriately sized life vests with new swimmers or with children of any age when kayaking, canoeing, boating, jet skiing or enjoying any water sport. While floaties or water wings were once popular with babies and young children, these are not protective water gear and can lull parents into a false sense of security. The best advice for these products? Simply do not use them.
Stay Vigilant
However you choose to spend spring break with your family, it's important to keep an extra-cautious eye out. While this national holiday usually results in wonderful lifetime memories, there also is a rise in dangerous behavior. Always monitor your area for behaviors like drug use or binge drinking that could result in violence or drunk driving (in both vehicles and boats).

If spending most of your week outdoors, it's also vital to monitor your children for signs of health trouble. After a long day of hiking, biking, swimming or other physical activities, kids can experience dehydration and heat exhaustion. To combat these conditions, make sure to pack appropriately. Cold water should always be available, as well as fresh fruits, vegetables, whole grains, lean proteins, and other low-calorie and nutritional foods. Indulging in meals out and snack foods is common on vacation. But keeping your child's diet balanced and avoiding high amounts of salt and bad fats will help them feel better and have more fun.
Prioritize Safe Activities
Spring break doesn't need to be "crazy" in order for kids to have fun. In fact, simply by being active outside and spending quality time with family or friends, children will have a blast during their time off from school. To make the most of this time and stay safe, get creative with your planning. Most kids enjoy activities like bird watching, fruit picking, shell collecting and engaging in art projects. If you're staying home, explore the area with your children. Going to the playground, a museum, local arts venue, concert, botanical gardens, zoo, theater or an outdoor performance creates memorable moments. Even the everyday act of prepping food, cooking or grilling outdoors can get kids involved and moving. There's no reason that safety and fun can't go hand-in-hand.
Are You Interested in Learning More?
Sign up for our e-newsletter for more tips and best practices from pediatricians.
Sign Up Here