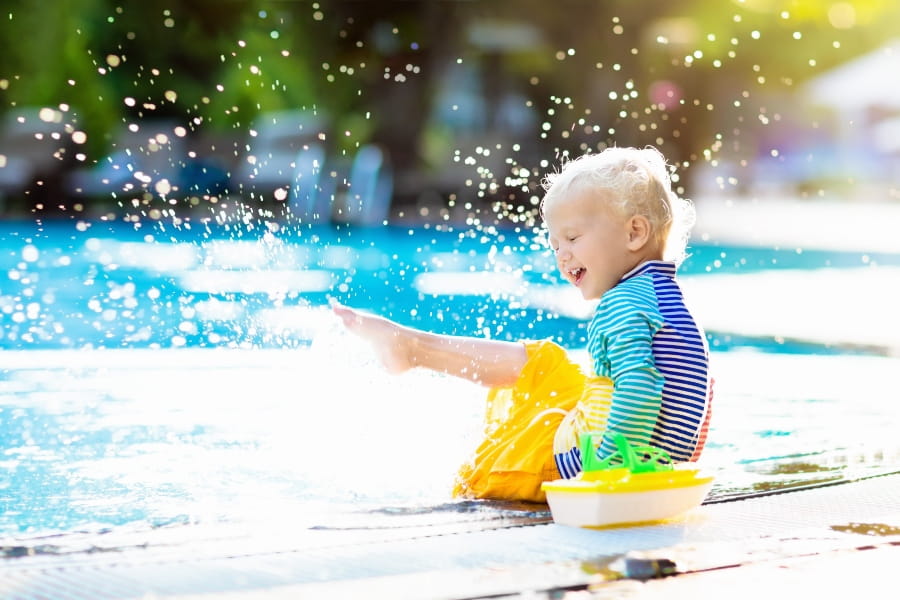 Drowning Prevention in Children
Playing in the water is fun for children of all ages — and with Florida's year-round warm weather, it is a favorite activity in the sunshine state. At Orlando Health Arnold Palmer Hospital for Children, we want children to be safe when enjoying Florida's many water activities.
Why drowning prevention for children is so important:
Kids can drown in as little as on 1 inch of water.
Drowning is the leading cause of death in children ages 1 to 4.
Swimming pools are the most common site of accidental drowning.
In 83 percent of drowning incidents, the child was estimated to be missing for 11-12 minutes.
The incidence of drowning in natural water settings increases with age. Of kids older than 15 years-old, 57 percent of drownings occurred in lakes, oceans or rivers.
In 2017, the U.S. Coast Guard reported 2,629 injuries and 658 deaths due to boating incidents.
Nearly 9 out of 10 drowning victims were not wearing life jackets.
Prevention Tips
Thankfully, many drowning accidents can be prevented, and parents and caregivers can play a key role in protecting children. By taking safety precautions such as those listed below, whether you're at home or out to play, you can help to keep your child safe around water.
Home Pools
Install a four-sided fence that completely separates the house from the pool area.
Consider an alarm system to alert you if someone enters the pool area.
Keep pools free of floats and balls that might tempt children to enter the pool unsupervised.
Always designate a responsible adult as "water watcher," as many drownings occur because it is assumed someone else is watching children in the pool.
If a child is "missing" — always check the pool first. Scan the entire bottom and surface as well as the surrounding area.
Above ground pools should have a fence around the pool or around the access point, such as the ladder or stairs.
Hard covers should be on hot tubs at all times when not in use.
The Residential Swimming Pool Safety Act (Chapter 515, Florida Statutes) requires one of the following pool safety measures be in place for pools built after October 1, 2000:
A pool fence with self-closing, self-latching gate – enclosing the pool and providing no direct access to it.
An approved pool cover.
Alarms on all doors and windows leading out to the pool.
All doors providing direct access from the home to pool have a self-closing, self-latching device with a release mechanism no lower than 54 inches above the floor.
The Florida Department of Health recommends using a combination of barriers to help ensure your pool is equipped with approved safety features.
Natural Bodies of Water
Swim in supervised areas only.
Always enter the water "feet first" and look before jumping to be sure no one is in the way.
Obey posted warning flags, and stay away from piers, pilings and jetties.
Keep a lookout for and avoid aquatic life.
Boating
Wear a U.S. Coast Guard-approved life jacket:

Type I: Offshore Life Jacket – Designed for open ocean, rough waters or remote areas. They turn most unconscious wearers to a vertical position.
Type II: Near Shore Life Jacket – Designed for inland waters. They may turn most unconscious wearers to a vertical position. They are less buoyant than Type I, but are more comfortable to wear.
Type III: Flotation Aids – Designed for calm inland waters or for the specialized sport that is marked on the device. Type III is more comfortable for active water sports than Types I and II.
Type IV: Throwable Devices – Designed to be thrown to a victim in an emergency. They are not intended to take the place of wearing a life jacket.

Do not ride in a boat – or let children ride in a boat – operated by someone who has been drinking alcohol.
Attend a boating course with the family (some examples include Red Cross, U.S. Coast Guard, US Sailing) to learn navigation rules and emergency procedures.
Miscellaneous
Empty all tubs, buckets, containers and kiddie pools immediately after use and store them upside down to prevent the collection of water
Close toilet lids and use seat locks to prevent kids from falling in head first.
Ensure there are no covered or uncovered holes around the house collecting water.
Layers of Protection
It's important to have multiple layers of protection in place to prevent an accidental drowning.
Layer 1: Supervision
Supervision, the first and most crucial layer of protection. It means someone is always actively watching when a child is in the pool, tub or natural body of water. For young children, the supervisor should be within range of touch at all times.
Layer 2: Barriers
A child should never be able to enter the pool area unaccompanied by a guardian. Barriers physically block a child from getting in the water. Barriers may include child-proof locks on all doors leading to the pool, a pool fence with self-latching and self-closing gates, and door and pool alarms. Professional pool covers fitted to your pool may also be used. A simple canvas covering can be a drowning hazard and entrap a child in the water.
Layer 3: Emergency Preparedness
From the moment a child stops breathing there is a small, precious window of time in which resuscitation may occur. But only if you know what to do. Administering CPR can mean the difference between life and death. In an emergency, it is critical to have a phone nearby and immediately call 911.