View All Articles
The Impact of Music Therapy on Our Pediatric Patients
This blog was written in conjunction with Agnes Hsieh, a board-certified music therapist at Orlando Health Arnold Palmer Hospital for Children.
For many people, music therapy may be an unfamiliar concept. While most of us have experienced a favorite song improving our mood or helping us relax after a stressful day at work, the practice of treating a patient with music to achieve specific clinical outcomes may seem like a new idea.
However, music therapy has a long history, with the earliest mentions dating back to ancient Greece and the writings of Aristotle and Plato. Contemporary music therapy got its start after World War I, when musicians started playing at veterans' hospitals for patients suffering from both physical injuries and emotional trauma.
Today, music therapy has gained acceptance as a valuable part of treatment for many conditions throughout Orlando Health and across the healthcare industry. As a music therapist, my goal is to provide therapeutic, music-based interventions designed to help reach measurable goals and objectives that align with the patient's treatment plan.
How Music Therapy Can Help Children
With children, pediatric music therapy is highly effective, in part because it seems non-threatening to the child. Music therapy can involve a variety of musical experiences that can achieve positive changes in behavior and improve development of communication, social and emotional aspects, and cognitive skills.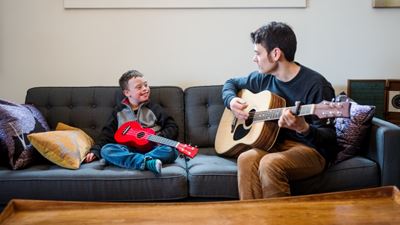 It also can help with pain management, if necessary, and generally provides emotional support.
Research has shown that both playing and listening to music involve the whole brain, including areas that control movement, speech, reward, emotional processing and memory. A music therapist will engage patients in an activity that addresses those areas depending on their medical needs. For example, we know that listening to pleasurable music engages the brain's reward circuitry and helps modulate pain perception. To assist with pain management, therefore, a music therapist might play a patient's preferred song in a slow, soothing style that is pleasurable to listen to, while also encouraging deep breathing.
The specific type of music therapy we provide is based on an assessment of the patient's individual needs and designed to achieve specific goals. We also take the patient's music preferences into account during the assessment. Some of the clinical goals we strive to accomplish include:
Managing pain
Adjusting to the hospital environment
Promoting comfort and relaxation
Encouraging positive coping
Providing emotional support
With infants, the goal may be to promote non-nutritive sucking and self-regulation. Overall, we design the therapeutic plan to motivate participation in a non-threatening and non-painful way, toward the goal of processing and encouraging self-expression of each patient's unique inner experiences, as well as their hospital experience.
What Happens During a Pediatric Music Therapy Session?
With younger pediatric patients, we might include music listening or musical games, as well as learning and/or playing instruments to promote motor skills and cognitive functioning. With teen patients, our goal might be to provide emotional support and give them an outlet for creative self-expression. For example, we may engage them in music to help them find meaning in their hospital experience through songwriting, lyrical analysis and music recording. We also encourage pediatric patients to take full control over their musical experiences in every session, if they're able.
The length of a patient's stay with us also may determine the kind of music therapy we provide. With short-term patients, we may focus on immediate needs, such as managing pain without medication, promoting comfort and relaxation, and providing procedural support. With long-term patients, we might shift toward helping the patient cope with a longer admission, providing emotional support, promoting movement and/or cognitive skills, and encouraging patients to participate in group music therapy to help them connect with their peers and socialize.
Working as a music therapist is a rewarding experience for several reasons. Most children naturally respond to music, so we're able to take what could be a frightening, uncomfortable experience and make it more bearable for them. At the same time, we're working on the therapeutic benefits and seeing the results as their health improves.
Are You Interested in Learning More?
Sign up for our e-newsletter for more tips and best practices from pediatricians.
Sign Up Here