View All Articles
Is Sunscreen Safe for Babies?
Few things can bring a smile to your face as quickly as a baby in a bathing suit. With chunky leg rolls exposed and a huge summertime grin on their faces, babies lounging at the beach or the pool are just the cutest. But as you dress your little ones in their beachwear, you may wonder whether you should slather on sunscreen before going out in the sun.
We know that children and adults should protect themselves from the sun with sunscreen, but is sunscreen safe for babies?
Babies Younger Than 6 Months
Avoid sunscreen for babies younger than six months of age. Here's why it's not recommended:
Babies' skin may not be able to keep out the chemicals in sunscreen as effectively as older children and adults.
Babies' skin may be more sensitive and more likely to develop rash or irritation.
What to Do Instead of Using Sunscreen
The best way to protect infants from exposure to the sun is to keep them out of direct sunlight. This doesn't mean you have to avoid the beach or the pool entirely, but it does mean you may need to alter your plans a little bit.
Here are some things to consider:
Use an umbrella or sun shade to provide relief from the glaring rays.
Limit sun exposure between 10 a.m. and 4 p.m. when ultraviolet radiation is at its peak.
Always have your baby wear a hat that provides protection (whether they have a lot of hair or none at all).
Hats should have a wide brim and flaps that are large enough to shade the face and the back of the neck.
Dress your baby in lightweight, light-colored pants and long-sleeved shirts.
Consider UV-protective clothing if your budget allows.
Keep in mind, though, that none of these interventions provides complete sun protection for a baby. It's possible to get sunburned in the shade or on a cloudy day, so be sure to check on your baby frequently and limit your time outdoors accordingly.
Other Summertime Risks
Sun exposure isn't the only concern for infants. Babies can't regulate their own body temperature as effectively as older children and adults, and they are more prone to heat-related illnesses.
Along with the recommendations provided above, be sure that if you're outside on a hot day, you provide plenty of air-conditioned breaks for your baby. Also, provide plenty of formula or breast milk to keep your baby well-hydrated. Infants don't need water to stay hydrated, but they do need plenty of formula or breastmilk.
For Babies Older Than 6 Months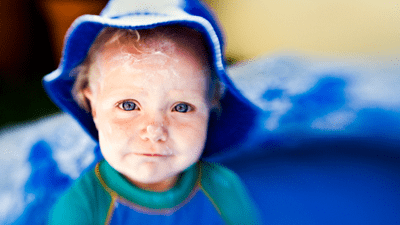 Once a baby reaches 6 months of age, you can consider using sunscreen. Follow the suggestions above, but you also may use sunscreen when necessary.
Here are a few things to consider when selecting and using sunscreens:
Choose a sunscreen with the words "broad spectrum" on the label. This means it protects against both UVA and UVB rays.
Select a sunscreen with a sun protection factor (SPF) of ­­­­15 or greater (30 is sufficient for most people).
Apply sunscreen 15 to 30 minutes prior to sun exposure, and reapply every two hours.
Reapply sunscreen more frequently if baby goes in the water or gets splashed.
Don't forget to apply sunscreen to the back of the neck, tops of the feet, tips of the ears and any other exposed area.
Be sure your sunscreen is within its date of expiration (check the label), because it may not be effective if expired.
Consider sunblock that contains ingredients such as zinc oxide and titanium dioxide, which form a physical barrier on the skin instead of using a chemical to prevent sun damage.
Always follow the manufacturer's instructions on your sunscreen bottle or tube.
With these measures in place to keep your baby safe in the sun, you should be able to enjoy all of the wonderful ways summer keeps us smiling.
Are You Interested in Learning More?
Sign up for our e-newsletter for more tips and best practices from pediatricians.
Sign Up Here