View All Articles
How Cancer Changed My Life: A Patient's Perspective
When I was diagnosed with bone cancer, my life immediately shifted into survival mode. From ages 12 to 13, I spent a year of my life fighting a disease that I never expected to face. From chemotherapy, to surgeries, to needles and medications, my family and I journeyed through a battle that radically changed our lives.
Every battle comes with a team of warriors, and mine came in the form of the amazing doctors, nurses and physicians I grew to know and love at Orlando Health Arnold Palmer Hospital for Children. With their help, I was declared cancer free on Feb. 3, 2011. But after nearly a year of treatment, it was hard to imagine what my life would be like after cancer.
I often wondered exactly what I would do now with such a life-altering journey in my rearview mirror. What were my limits? What was my future going to be like? But it didn't take long for those thoughts to turn into limitless possibilities with the encouragement of the very same people who helped to save my life.
My doctors, nurses, physicians, family members and friends made it their personal responsibility to help me dream big. In the seven beautiful years that I have spent in remission, I have lived a life that is far greater than anything I could have ever imagined before cancer. But I have come to learn that life is great when you decide to appreciate every moment you have, big or small.
In the last seven years, I've found just as much joy in the little things, such as running or watching my older brother play baseball, as I have in the big things that have come around. I've been a horse owner, a varsity lacrosse player, a high school graduate and now a college student at Liberty University in Virginia. I've been on adventures I never could have dreamed of, such as running my own non-profit and speaking before crowds of thousands. I've also had the chance to simply be a kid. These are the kinds of opportunities you cannot put a price on.
While racing forward, I have always paused to look back, smile and remember the reason behind all of my experiences after cancer. Orlando Health Arnold Palmer helped save my life. My doctors, nurses and physicians gave me the chance to dream big and I continue doing so to this day. But most of all, they taught me that life doesn't stop after cancer.
It's just beginning.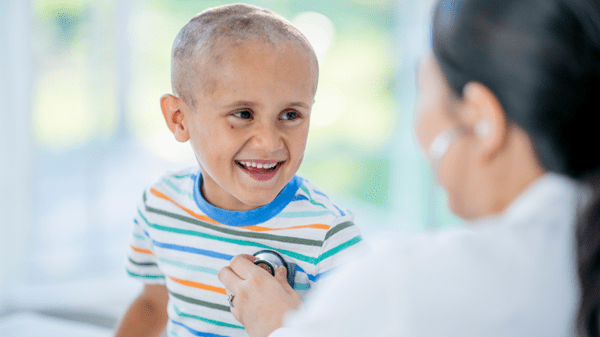 Learn More About our Pediatric Oncology Services
As one of the oldest, largest and most comprehensive programs in Central Florida, the expert team at the Haley Center has extensive experience treating all forms of childhood cancer. You can rely on their expertise to guide your family through these difficult decisions to find the best possible outcome.
Learn More