View All Articles
Holiday Cheer to Children in the Hospital
The holidays are a difficult time to be in the hospital—especially for children. But being a pediatric patient doesn't mean missing out on the warmth of the season or on holiday cheer. At Orlando Health Arnold Palmer Hospital for Children, we know that every child should experience the joy of the holiday season regardless of their current situation. So, since our patients cannot go home to celebrate the season, we bring the holiday celebrations to them.
How We Do It
Regardless of why a patient is hospitalized, it's important for them to celebrate the holidays and create positive memories. Bringing the festivities to our patients makes missing celebrating at home a little easier and allows them the opportunity to focus on the positive instead of worrying about their current situation.
With about 20 patient-focused events during December — such as photos with Santa, Grinch-themed pancake parties and tree lightings — we offer a variety of themes to appeal to a wide range of patients.
It Takes a Village
While our staff drives many of our events, we also partner with wonderful external organizations and our foundation to pull off our holiday activities. Just as the staff is incredibly passionate and dedicated in bringing the holidays to patients, our partners and community members are thoughtful and generous in donating their time and resources. Weeks before Christmas, the team here at Arnold Palmer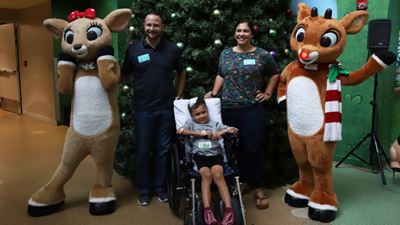 Hospital unloads countless cars and trucks filled with donations. During December, community members hold dozens of toy drives and those gifts are brought to our Santa's Workshop where volunteers sort, organize and prepare them for patients to receive Christmas morning. Because they spend a lot of time with patients, our child life specialists personally match gifts to patients based on their interests and abilities.
Besides focusing on patients, the child life specialists are dedicated to ensuring the families here at the hospital have a meaningful experience, too. Many of these team members spend part of the holiday season away from their own families in order to provide emotional, procedural and clinical support for patient families here at Orlando Health Arnold Palmer Hospital.
The 'Why' of Our Holiday Celebrations
Our staff, both medical and non-medical, are passionate about ensuring patients have the best quality of life possible. As part of that, we want our young patients to experience joy and create positive memories just like other children during the season. The holiday activities at Orlando Health Arnold Palmer Hospital demonstrate to our patients that regardless of what is happening to them, they are cared for, thought of and important – just like any other child. It shows them that even though they are hospitalized, they aren't left out of these annual celebrations.
Not only patients benefit from our holiday events, but our staff does, too. We get to see just how giving people are. I've met so many selfless, generous community members who care deeply about our patients.
One of my favorite December activities is the Arnold Palmer Hospital Tree Lighting Ceremony. During the event, our patients, their families, our staff and community members all gather together to celebrate. The joy, sense of community and hope that we all share during the ceremony lasts far beyond that night.
While the hospital is not an ideal place to spend the holidays, the team at Orlando Health Arnold Palmer Hospital does all we can to make sure it remains a special season.
Are you interested in learning more?
Sign up for our e-newsletter for more tips and best practices from pediatricians.
Sign Up Here