View All Articles
5 Ways to Keep Your Kids Active in Bad Weather
Looking for ideas on how to keep your kids busy during poor weather? Staying active is important all year round, but when severe weather hits, it can be tough to get outside. It's all too easy to come home from work and school, turn on the TV and lounge around. Yet, considering that the U.S. Department of Health and Human Services recommends that children and teens should participate in at least 60 minutes of physical activity every day, it's vital to substitute new activities for outdoor ones.

Despite Florida's frequent thunderstorms, you can keep the kids busy throughout the rainy season with these 5 tips.
Use Screen Time in a Smart Way
When used in excess, smartphones, computers, videos games and TV can be detrimental to your health. In fact, it's best to limit screen time for children to less than 2 hours a day. Yet, the internet also can be your friend when it comes to keeping kids moving. Consider searching on YouTube for fun dance or fitness videos that children can follow along with. Another option for indoor play is a Wii Fit. The console's tennis, soccer, bowling and other games make for a great high-energy activity on a rainy day. Or, as long as it's appropriate, simply pop in an old exercise tape or DVD and challenge the kids to keep up.
The internet can be your friend when it comes to keeping kids moving.
Visit an Indoor Play Gym
For kids, going to an indoor play gym often scores big points. These indoor playgrounds often feature jungle gyms, climbing areas, trampolines, slides and other obstacles to keep little ones moving. If this type of structure isn't available in your area, look around for a restaurant that boasts an indoor play area instead. Or, if you have your own adult gym membership, ask whether children are allowed to accompany you to certain safe areas of the center. While nothing beats an old-fashioned outdoor playground, indoor play areas can be a great option.
Encourage Kids to Engage in Imaginative Play
The best and most long-lasting activities are often the ones invented through imagination.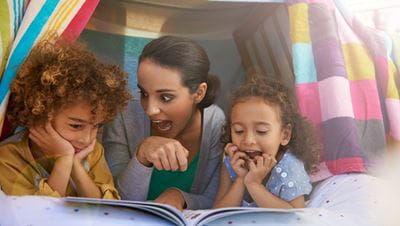 If you can't take young children to a park or allow them to run around the neighborhood, consider coordinating with other nearby parents for playtime. Encouraging your children to have friends over can lead to indoor games of tag, hide and seek, and even more unique activities. Just make sure to take any screens away, which can diminish imaginative play.
Go to a New Location
Escape from the house and head to a nearby indoor location that encourages exercise. The bowling lane is a lively option, as is an indoor swimming pool, indoor basketball court and roller or ice-skating rink. Still, don't limit yourself: even walking around the mall or running a few errands can help keep children active and engaged.
Embrace the Bad Weather and Head Outside
As long as the weather hasn't dipped into dangerous conditions, consider getting everyone into their boots and raincoats, and heading outside. Although it may seem like too much of a hassle at first, taking a walk around the block or splashing in puddles soon makes for happy kids. It's also a great way to burn energy and fight back boredom. Just remember that parents need to set an example too. Whenever possible, stay off your phone, get involved and have fun!
Are You Interested in Learning More?
Sign up for our e-newsletter for more tips and best practices from pediatricians.
Sign Up Here