Request an Appointment
Quick Scheduling with a Spina Bifida Specialist
Enjoy comprehensive service and award-winning healthcare. Submit an appointment request today, and we will follow up with you to confirm a time that works for you and your family.
Multidisciplinary Care for Children with Spina Bifida
Your child deserves a chance to take on the world. You don't need to let anything hold him or her back, even a condition like spina bifida. Our team of healthcare professionals is here to help your child progress to their fullest potential.
The Spina Bifida Program at Orlando Health Arnold Palmer Hospital for Children has been caring for infants and children with spina bifida since 1981. Through collaborative care, our multidisciplinary team is dedicated to providing your child with optimal health and the best possible quality of life.
Spina bifida is a neural tube defect that occurs during the first month of pregnancy. As the fetus develops, the spinal cord is not able to fully form, causing a sac of spinal fluid, tissue and spinal cord to form outside of the body. Before or after birth, doctors perform surgery to correct the spinal defect. Post-surgical symptoms of spina bifida can vary greatly from child to child. Although some children may experience minimal impacts, others may face challenges with walking and mobility, bowel and bladder function, wound healing, or fluid accumulating in the brain (hydrocephalus) requiring shunt surgery. For these reasons, lifelong care is especially important for a child with spina bifida.
"Since we found out Kennedy's diagnosis, the Spina Bifida Clinic has been like a warm hug for my family. They are there to hug us, cry with us, listen to us and help us. I cannot praise the staff of the Spina Bifida Clinic enough. The doctors and nurses always have a smile on their face and helpful tips and advice with each visit. We are treated like family with each visit. Our family is forever grateful for the care and the comfort that was given to us after we found out that our daughter, Kennedy, would be born with spina bifida."
Shannon Tuttle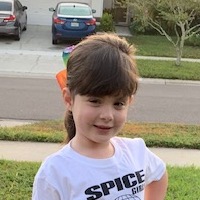 A Spina Bifida Association Clinic Care Partner
The Spina Bifida Program at Orlando Health Arnold Palmer Hospital for Children is the first program in Florida and one of only 31 worldwide to be recognized as a Spina Bifida Association (SBA) Clinic Care Partner. The SBA program works to understand the needs of individuals with spina bifida and identify clinics with the best outcomes. Clinics who become SBA Clinic Care Partners are recognized for meeting 10 standards of care identified as best practices to care for people with spina bifida.
Multidisciplinary Clinic
Children with spina bifida may require care from a variety of specialists, including those representing neurosurgery, urology, orthopedics, physical therapy, occupational therapy and speech therapy. Each Friday, we offer a specialized Spina Bifida Clinic where patients up to age 18 can be evaluated and treated by experts who come together to treat the multiple needs of spina bifida patients. Our diverse team of experts includes specialists from the following departments at Orlando Health Arnold Palmer:
After the clinic, the team meets to discuss each patient and set goals for the next six to 12 months. Between appointments, our dedicated nurse coordinators stay in touch with patients and their families to guide patients' care plans. These elements make the care received in our pediatric Spina Bifida Clinic some of the best and most personal care available for patients with this complex condition.
If your child has been recently diagnosed with spina bifida or if you're searching for a new care team, please call (321) 841-5683 to schedule an appointment, or submit an online appointment request.
"The nurses at the Spina Bifida Clinic gave me hope when I had none. They opened their hearts and supported my son, Mason. The nurses showed me my baby had potential and opportunities waiting for him. Because of their devotion to the spina bifida community, they are not just nurses, but have become part of our family as well."
Mary Frazier