View All Articles
The real problem with hunger all around us
When we think of the word hunger, we imagine children who are thin and starving or of the feeling in our stomachs right before we have a meal. You might be shocked to learn, however, that one out of every seven Americans suffers from food insecurity. They do not know when they will have their next meal or where it will come from- some may even go to sleep without a warm meal.
Food insecurity is the limited or uncertain availability of safe, nutritionally adequate foods or the uncertain ability to acquire acceptable foods in socially acceptable ways. Food insecurity affects approximately 13.1 million children in the U.S. under the age of 18. Many children obtain breakfast and lunch at school through government assistance programs and will not be able to have anything for dinner.
Click on this map to see the number of people struggling with food insecurity in the Central Florida area.
How food insecurity affects children
Food insecurity dramatically impacts a child's health and well-being. Proper nutrition, especially in the first three years of life, is important for adequate development physically and mentally, as brain development occurs during those years. Food insecurity can affect children at school- either by affecting their ability to pay attention, developing social skills and overall school performance. Behavior problems such as fighting, hyperactivity, aggression and anxiety have been identified in children who suffer from food insecurity. Food insecurity has also been shown to lead to mental health disorders in adolescents such as mood, anxiety and substance disorders.
Malnutrition from nutrient-deficient foods or a lack of food can increase the number of hospitalizations, risk of chronic health conditions and oral health problems. These increases are possibly due to a compromised immune system, which helps fight off infections. It is also associated with poor physical quality of life.
Research has identified that there may be a connection between food insecurity and obesity and low income families. It has been suggested that low calorie, nutrition-rich foods cost more when compared to high calorie, nutrition-deficient food. Therefore, it is easier to buy high calorie foods to feed families, leading to a rise in obesity. Additionally, food insecurity is not just the inability to pay for food but also the inability to access nutritious, unprocessed food, as in food deserts. A food desert is a specific area where affordable and nutritious food is hard to obtain, especially for those without automobiles.
Many children obtain breakfast and lunch at school through government assistance programs and will not be able to have anything for dinner.
Resources available for those struggling with food insecurity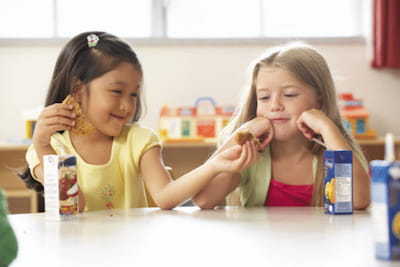 In order to help families with food insecurity, three major federal programs were created. The Supplemental Nutrition Assistance Program (SNAP) provides monthly benefits that can be used to purchase food at authorized stores. The National School Lunch Program provides federal subsidies to schools and organizations to help provide a nutritious lunch. The lunches are either provided at no cost or at a reduced cost. The Special Supplemental Nutrition Program for Women, Infants, and Children (WIC) provides children under age five, as well as pregnant and postpartum women, with food that meets specific nutritional requirements.
In addition to the above programs there are resources for children while they are out of school such as after school programs and summer programs that help provide warm meals and learning opportunities.
What you can do to help
If you would like to get involved, please contact your local community food bank and they will be able to advise you on items that can be donated or ways to volunteer.
If you or someone you know is struggling with food insecurity and reside in Central Florida, please contact Second Harvest Food Bank of Central Florida, and they will be able to provide information about your nearest community food bank.