View All Articles
The Go Go Brothers Learn Imagination is Limitless in the Go Go World
For bothers "Rooey," 8, and "Bean Boy," 6, being different than the other kids in their class was not always accepted with a sense of pride. Rooey was diagnosed with a speech and language disorder at age 3 and with Autism and ADHD when he was six. Bean Boy was born at Orlando Health Winnie Palmer Hospital for Women & Babies with a severe form of spina bifida and has undergone several surgeries at Orlando Health Arnold Palmer Hospital for Children to help with his condition.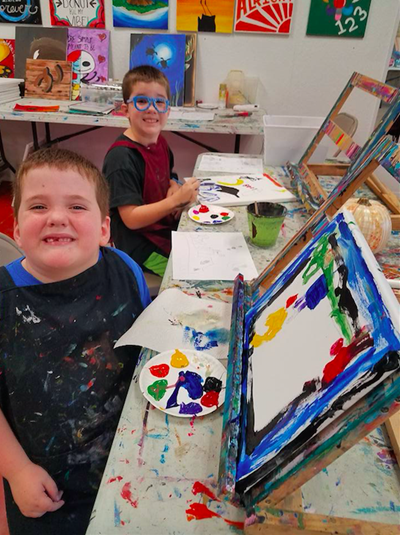 Both boys have struggled with mental and physical limitations throughout their young lives, but their dad, a professional animator, and mom, an elementary school teacher, wanted them to learn that their imagination is something that can never be limited. That, is where the YouTube show The Go Go Brothers comes into play. Shot in front of a green screen in the family's garage, the show uses viewer-submitted drawings, as well as those created by the boys and their dad, to escape to The Go Go World where limitations do not exist. The Go Go World is a place where kids can go and instantly become a part of it; a place where everyone has something unique to share.
Since the show launched in late 2017, Rooey and Bean Boy have learned how to use art as a sense of comfort and an escape from the real world. They have also learned that there are many different perspectives as shown through the art work submitted for the show by other kids.
According to their parents, the show has given the boys a newfound sense of pride and encouragement. They also have a new sense of responsibility to show others like them, that everyone is going to be okay and that they are not alone. Which, in turn, has resulted in improvements to their socials skills and a willingness to push themselves beyond their comfort zone. Instead of saying, "I can't," they now say, "I tried."
To learn more about The Go Go Brothers, visit thegogobrothers.com.