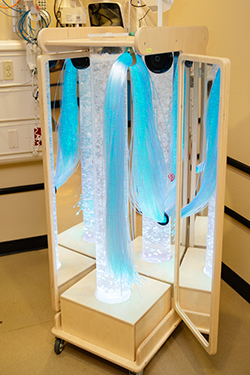 For any child, a visit to the Emergency Department (ED) can bring on a sudden increase in anxiety. However, for a patient on the autism spectrum, the noise, bright lights and busy atmosphere of the ED can create unique challenges for the patient, parent(s) and caregivers.

Not only is communication between clinicians and parents a key ingredient, knowing how to help soothe autistic patients during the treatment process is critical to providing the best care possible.

To help aid families during their visit, new sensory carts at Arnold Palmer Hospital for Children help reduce stimulation and help the child relax. Staff are trained in knowing when and how to use the sensory cart, depending on age and sensitivity levels, to help patients with autism process the environment around them and overcome any sensory breakdowns.

For more information on the care and treatment for children with autism at Arnold Palmer Hospital, contact our Child Life Department at www.ArnoldPalmerHosptial.com/ChildLife.