View All Articles
Overcoming postpartum depression: Heather's Story
January 20, 2012. Within 24 hours of the birth of my beautiful baby girl, my eyes filled with tears and I couldn't move from my bed. While watching my all-time favorite TV show "Friends" in my recovery room, the all-too familiar feeling of anxiety and uncontrollable sadness flooded my system.
Again.
Just twenty months earlier, I had given birth to my first child – my son CJ. I remember feeling so much joy while holding him in the hospital, despite feeling frustrated about not getting the hang of breastfeeding immediately. We left the hospital, both healthy and ready to settle in at home. Little did I know that within a few days of arriving at home, the fluttering of joy and happiness would disappear, and I would slip down into a deep cavern of sadness and hopelessness, all the while staring at my pride and joy.
I can't think of a more miserable feeling than crying uncontrollably for what seems to be no reason, while you are holding a beautiful baby in your arms. The helplessness and isolation is unbearable. I had family and friends who just kept saying, "Just look at his face. How can you be upset when you look at his face?" Truth was, I didn't want to feel this way – I wanted to be able to feel happy when I stared into his bright blue eyes. I wished day and night that those eyes would pull me from the well of despair I had found myself suffering in.
Fresh air and walks temporarily distracted me from the sadness, depression and irritability. But during his naps, I couldn't even do things for me. Anxiety paralyzed me and all I could do was sit on the couch, watch TV and pray that it would be time for my husband to come home from work.
This is not how they portrayed motherhood on TV and in the movies. In my mind, I was a complete failure as a mother – I should be overflowing with joy and 'oohing' and 'aahing' over all of his cute features, but I couldn't. I was empty and isolated myself because of the guilt I felt.
I was empty and isolated myself because of the guilt I felt.
It was torture, but at the urging of my husband, I finally did something about it. At my six-week check-up, I told the nurse about my feelings. I told her about my lack of interest in everything and the sadness that consumed my every waking thought. She prescribed anti-depressants that were safe to use while breastfeeding.
Over time, I slowly eased out of the depression. Whether it was the anti-depressants or the fact that my son was getting a little older and I could enjoy more activities with him, I found myself on the other side.
I thought I was out of that well for good. Little did I know that women who suffer from postpartum depression (PPD) with their first child have a greater chance of experiencing it with a second pregnancy.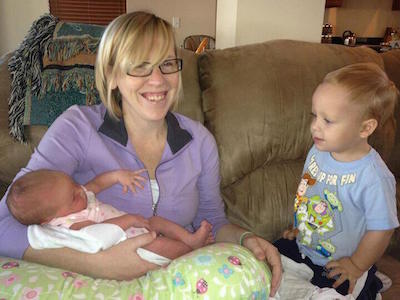 Back to January 20, 2012. My beautiful baby girl Hannah was born the previous night. While watching "Friends" (it really is my go-to in just about any situation) in the afternoon as she slept beside my hospital bed, the dread I felt when CJ was just a few days old had already appeared, and again, I felt paralyzed.
Fortunately, having already dealt with PPD the first time around, I was pretty sure what I was feeling. The time of day that it hit me was consistent with the time of day I would feel most anxious with CJ. I dreaded the evenings when he was a newborn because I knew that, even though all I wanted to do was sleep, I'd be up feeding him multiple times. All I wanted was my husband to get home from work and save me from my sadness and myself. But I was determined to nip it in the bud as soon as I felt it this time around.
The next time my doctor came in to check on me, I told him. I remember the conversation like it was yesterday because of the way he helped me make sense of my feelings.
Me: I'm feeling anxious and overwhelmed already. Last time it took a few days to feel this way. I thought I'd be fine this time because I've done it before. But I'm feeling the same way. I feel so silly for feeling this way.
Doctor: I'm glad you recognized it and you told me. It's not silly. Saying that you feel silly about feeling this way is the same as you saying you feel silly for having the flu. We'll start you off on similar anti-depressants and do a follow-up in a few weeks to see how you're doing. It will all turn out fine. This is a common feeling, even the second time around.
That started off my second journey through postpartum depression on a positive note. This time around my family and friends understood a little more, although they still couldn't empathize with me, which was tough. And the fact that I didn't have family or close friends in Florida made it even more difficult.
But then I discovered the amazing resources at Winnie Palmer Hospital. Hannah was having trouble breastfeeding and I really wanted to maintain that special bond with her. I set up time with a lactation consultant who helped tremendously. At that meeting, I told her about being on antidepressants and that I was battling PPD for a second time. Not only did she help Hannah and me get things figured out with breastfeeding, she told me about a group that met twice a week called "Mother-Baby TEA (TLC, Education, Answers)."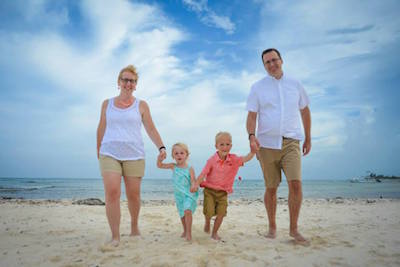 I'm shy by nature, so going to a group meeting, knowing absolutely no one and already feeling self-conscious, was not high on my list of things I wanted to do. But I wanted to make my time at home with Hannah the best it could be before returning to work, so I took a leap. I went to the group and loved it.
I was able to see how much Hannah was actually eating, by weighing her before and after feeding her. I connected with other moms who were in a similar place. And I got to ask questions to nurses who work with babies and new moms every day. The comfort that the Mother-Baby TEA provided me during my second time with a newborn was unexpected and something I will always remember. It got me through a very hard time, as I battled the guilt that comes with PPD, while also trying to balance raising two children and focus on my own health and needs.
If you or someone you know is suffering from PPD, please know that it is common – one in seven women suffers from PPD. It's OK to feel how you're feeling and you owe it to yourself to ask for help, join a mommy group and/or seek counseling. Having PPD doesn't mean you're not a good mother. You, your baby and your family will thank you for asking for help.
And the most important thing I learned through both of these bouts with PPD is the best way for me to take care of my babies was to take care of myself.
---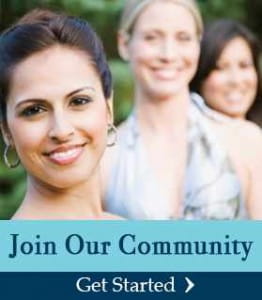 Winnie Palmer Hospital Online Community Groups
When you're a part of our community, you're never alone. We've created a place where women, patients and families can easily connect with each another to discuss their illness, condition and treatment.
We've created a group especially for new moms, where you can get support from other moms, ask questions, and get expert information on topics related to children's healthcare. Join the discussion by sharing your story.