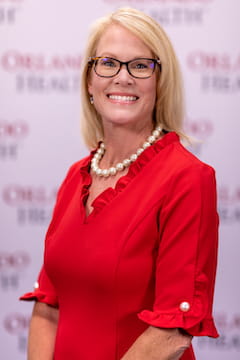 Orlando, FL (September 14, 2022) – After more than 25 years of service with the organization, Jill Dykstra-Nykanen, RN, MSN has been named chief quality officer of Orlando Health Arnold Palmer Hospital for Children and assistant vice president of Orlando Health.
Since assuming the role of senior quality director in January 2021, Jill has provided leadership and support to activities, processes and policies resulting in high quality patient care. She has worked closely with the hospital's nursing, allied health, medical staff, executives and quality teams to successfully support the Orlando Health strategic vision for quality improvement, regulatory compliance, and patient safety.
"We are thrilled to promote Jill to the role of CQO for the hospital," said Cary D'Ortona, president of Orlando Health Arnold Palmer. "She's been an integral part of our team for over two decades and I know she will continue to ensure that we provide the highest level of care to the children and families of Central Florida and beyond."
Jill graduated from Florida State University with a bachelor's degree in nursing in 1994 and University of Phoenix with a master's degree in nursing in 2006. She began her career at Orlando Health Arnold Palmer in 1995 and worked in various areas including labor and delivery, pediatric intensive care, pediatric cardiac operating room and clinical research. She served as the hospital's clinical quality specialist from 2012 until her promotion to senior director in 2021.
Orlando Health Arnold Palmer Hospital for Children
Orlando Health Arnold Palmer Hospital for Children is a 156-bed facility dedicated exclusively to the needs of children. Orlando Health Arnold Palmer provides expertise in pediatric specialties such as cardiac care, craniomaxillofacial surgery, gastroenterology, nephrology, neurology, oncology, orthopedics, pulmonology and sports medicine. The Bert Martin's Champions for Children Emergency Department & Trauma Center at Orlando Health Arnold Palmer is part of the only Level One Trauma Center in the area, and is the first facility in Central Florida to provide emergency care exclusively for pediatric patients. Visit www.arnoldpalmerhospital.com to learn more about all of our specialties.