View All Articles
Is your preschool or daycare doing enough to protect your child from the flu?
Each year around this time we start talking about the flu, and we keep talking about it. Why, you ask? Because the flu is a real and serious threat for small children. Each year millions of children get sick with the seasonal flu virus, thousands of children are hospitalized and some of those unfortunately will die from complications of the flu.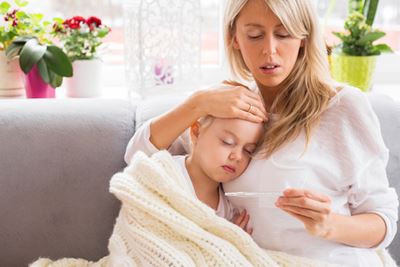 You may be tempted to think that it's no big deal, figuring "Well, I had the flu a few years back and I recovered just fine." But children aren't just miniature adults. Their bodies work differently, and they respond to illness differently. What we know from decades of monitoring the seasonal flu virus is that children are much more prone to serious, life-threatening complications from the flu than the average adult, so we have to take special precautions to protect our most vulnerable from this illness.
The best defense against the flu
The best thing you can do to protect your kids from the flu is be sure they get a seasonal flu vaccine each year prior to the start of flu season. The flu vaccine is recommended for every person over 6 months of age. You can contact your pediatrician's office, your neighborhood pharmacy or walk-in clinic or your local health department. Schedule an appointment as soon as the flu vaccine is available (usually sometime in October).
If you think your child cannot or should not receive the flu vaccine, talk to your pediatrician about these concerns. There are very few reasons why a child should face flu season unprotected (and a lot of misinformation on this topic) so if you're skipping the flu vaccine, be sure it is truly in the best interest of your child's health.
What your childcare facility should do to protect against the flu
After the flu vaccine, the best prevention against the flu has to do with the way in which our kids interact with others since the illness is spread from person to person. Young kids happily put toys in their mouths then share them with their friends, drink from others' cups, put their mouths on dirty chairs, doors, toilets or shoes- all of which make it easy to pass illness from one person to another.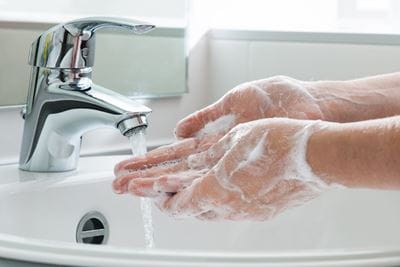 While we try our best at home to maintain sanitary practices, most of us at some time in our young children's lives utilize child care resources outside our home. Whether your child spends time in a daycare setting, preschool, Mother's day out program, playgroup or church childcare, these group settings where they are in close contact with other kids are where they are likely to pass illnesses to one another. Some exposure is unavoidable, but there are things your childcare facility can do to minimize your child's exposure.
Here are some things every childcare facility should do to prevent the flu:
Caregivers of young children (especially under 6 months of age) should be encouraged to get a yearly flu vaccine. This minimizes their potential for spreading the virus.
Caregivers as well as children should be encouraged to stay home if they are sick. If a child or caregiver has flu symptoms, they should not return to school until they are fever-free for 24 hours.
Caregivers should wash hands frequently with soap and water and assist children in doing the same.
Caregivers should avoid touching hands to face, nose or mouth and encourage children to do the same.
Surfaces within the childcare area should be regularly cleaned and disinfected, including toys and other objects frequently handled by children. While there is no specific frequency recommended, it is reasonable to expect daily cleaning, especially during flu season. Ask your childcare director about the requirements for cleaning and disinfecting in the childcare area.
Caregivers should teach and encourage children to cover their coughs and sneezes to minimize the spread of illness.
Children and caregivers should avoid touching tissues or other waste that may be contaminated with bodily fluids from sneezes, coughs or blowing the nose. If handled, they should wash their hands thoroughly with soap and water.
The childcare facility should have a protocol in place for when a child is discovered to be sick. They must have a plan that allows a child to be separated from other children until a parent or caregiver can be contacted and the child picked up.
The facility should provide plenty of tissues, soap, hand sanitizers, disposable wipes, cleaning supplies and easy access to a water source for frequent hand washing.
Each childcare facility should have a designated person who is tasked with monitoring health conditions in their area in case of an outbreak of flu or other illnesses. Ask administrators what plan they have in place for monitoring these conditions and taking action if required.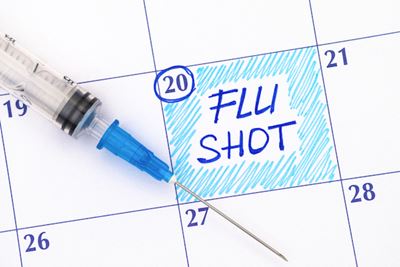 These are some of the most important things that caregivers who take care of multiple children in the same place can do to minimize the risk of spreading flu and other illnesses. These practices should be well-known to staff and frequently reinforced by administration.
Don't be afraid to ask caregivers and administrators about the practices they employ to keep your children healthy. If people seem to be unaware of or unfamiliar with these recommendations, they likely are not practicing healthy habits to prevent the spread of illness. As a parent, you have the right and the responsibility to address these concerns with any caregiver to whom you entrust the care of your child.