View All Articles
How to get your child into the spirit of giving this holiday season
With the season of giving approaching rapidly, many families are eagerly gathering their children's Christmas lists to figure out what they want under the Christmas tree. While this is an exciting time for most children, there are sadly others who worry that what they want will not find its way to their homes and many parents who share the concern that Christmas will not be what their family hoped.
We often learn of families in need during the holiday season, and many of us are inspired to help one another. Sometimes, however, with many children focused on their own wishes, it can be a challenge to encourage them to give to others- whether it's by purchasing new gifts to give away or by donating some gently, but underused, items of their own.
Here are some ways to foster a child's giving spirit:
Allow children to help choose the family or organization to which they are giving.
Letting a child choose where their beloved items go—whether purchased or donated—can foster a level of investment for the child and increase their eagerness to be involved. If there is more than one child in the family, rotating the opportunity to choose between family members allows everyone the chance to demonstrate what is important to them.
Make it a family affair.
Children loved to be included in family events, and this is no different. Even if family members each choose to donate to a different beneficiary, it can be fun and children can see that there are several ways to give and different types of people or animals that are in need. Who knows, a child who chooses to give their toys to a local family may also see their mother donating clothes to a shelter and want to give some of their clothes, too!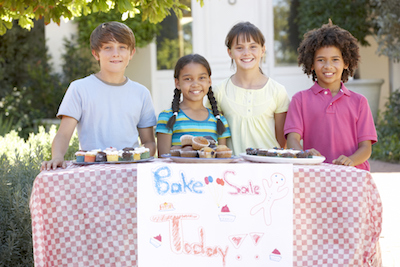 Giving does not equal "charity."
Children do not need to associate giving with a negative connotation. For example, many organizations continuously need items, such as an animal shelter that always needs dog food. It is a need that must be met in order for the organization to function, and sometimes the need is more frequent than others. Giving is simply providing help and support to others, and at this time of year, it can feel even more joyful knowing that people have been helped and can share in the same excitement that other children feel. Children may be surprised to find that those they are helping really are just like them. It may be helpful to talk with your children to help them find the common ground between themselves and those to whom they are giving.
Let the child participate in the gift drop-off.
Children are typically big fans of an "end point." They often want to know a final outcome or how a situation ends, stops or looks. So, if your family goes to a shelter or a local hospital to drop off gifts, toys or other items, bring them along. Explain to them what they will see when they arrive, what the items will be used for and who will benefit. If possible, let the children meet those who will be receiving the gifts and learn more about the facility or family they are helping. Be aware, though, that this is not always possible, so always ask the recipient before promising this to your child.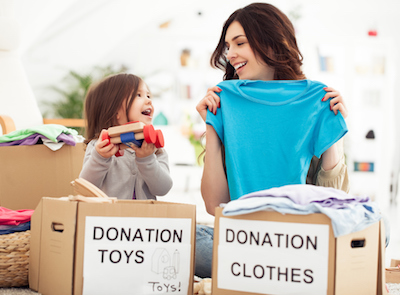 Remember, the opportunity to give to others is a gift. Children shouldn't perceive giving away items as punishment for a wrongdoing in their own home. This can foster negativity or even resentment towards the recipient and lessen the likelihood that the child will want to participate in the future. Also, it is important to remind children that giving does not have to involve giving "stuff." Some families may choose to give their time or energy. Those are very valuable things to give and they have no price.
No matter how your family chooses to give, however, it is bound to get and keep your family in the Christmas spirit!