View All Articles
Healthy Snacks Can Help You Manage Your Family's Hectic Lifestyle
This blog was written in conjunction with pediatric medical resident, Sanila Sarkar, MD.
In today's busy world, it's hard to find time to do anything! For a family on-the-go, one day can include school, soccer practice, dance class, robotics class, homework at night, driving all over town and many more activities. To succeed, it is important to fuel the body with healthy energy. While breakfast, lunch and dinner are the three most important meals, snacks are becoming more essential for our demanding daily routines.
Grab a convenient and healthy snack
Healthy snacking starts with preparation, but that preparation does not necessarily have to be time consuming. Some of the easiest snacks take zero time to prepare: fruits!
Fruits are jam-packed with vitamins, micronutrients and quick energy. Bananas, apples and oranges can stay at room temperature and are easy for people on-the-go. They are fresh, juicy and unprocessed. Fruits are the perfect healthy snack before sporting practices, and it is important to get three to five servings of fruit a day.
Don't forget the veggies!
Some healthy snacks take minimal preparation. Vegetables such as carrots, bell peppers, celery and broccoli simply need to be washed and cut into portions that are easy to eat. These vegetables often pair well with unprocessed peanut butter or hummus, both of which are high in protein and unsaturated fats.
Healthy, unsaturated fats are important for brain development. Thus, vegetables with a high-protein dip are the perfect healthy snack before homework. It is important to get two to four servings of vegetables a day and two to three servings of protein a day.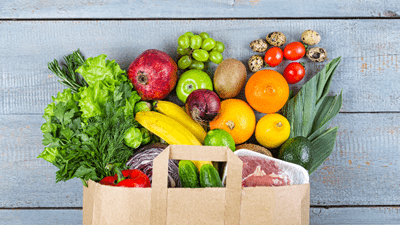 Dairy is delicious and healthy
Let's not forget about dairy! A healthy snack before bedtime can replace a high calorie, high sugar dessert. One of my favorite night-caps is a glass of skim milk before bed, full of calcium and vitamin D for strong bones and teeth.
The fat content of milk should be monitored, as different age groups will need more or less fat in their milk. Often times, I will have a cup of low fat yogurt before bed. The probiotics in yogurt can help settle an upset stomach and promote healthy balance in the digestive tract. It is important to get two to three servings of dairy every day.
At the end of the day, the keys to a healthy diet are balance, variety and portion control. You want to fuel your body with clean, fresh and unprocessed energy.
Food choices should always include those that are nutrient-dense, and high in vitamins, minerals and micronutrients. Eat the rainbow of fruits and vegetables! Make sure protein choices are high in iron. Limit total fats, but don't be scared of healthy, unsaturated fats. Don't forget to drink water and milk!
With the right choices, snacks can be a healthy adjunct to a hectic lifestyle. Please see below for one of my favorite healthy snack recipes, and visit myplate.gov for more information on healthy eating.
Simple Roasted Chickpeas, For Savory and Sweet Lovers
Ingredients:
16 oz (1 pound) of chick peas, rinsed and soaked in water overnight
2 tablespoons olive oil
1 tablespoon ground curry
1 teaspoon garlic powder
1 pinch of sea salt
1 pinch of black pepper
Directions:
Preheat oven to 350 degrees Fahrenheit
Mix seasonings together with olive oil
Add the presoaked and drained chickpeas to spices mix
Spread into a single layer on a baking sheet
Roast in oven for 45 minutes, or until slightly crispy
Enjoy!
Alternative ingredients:
16 oz (1 pound) of chick peas, rinsed and soaked in water overnight
1 tablespoon coconut oil
1 tablespoon garlic powder
½ cup parmesan cheese, grated
1 pinch of salt
1 pinch of black pepper
Alternative ingredients:
16 oz (1 pound) of chick peas, rinsed and soaked in water overnight
1 tablespoon canola oil
2 tablespoons cinnamon
¼ teaspoon nutmeg
2 tablespoons brown sugar to dust chick peas after roasting
Learn More About How to Improve Your Child's Health
Directed toward children and families who are at risk for obesity, the Healthy Lifestyles Program at the Center for Digestive Health and Nutrition offers a family-centered approach that concentrates on evaluating and managing the medical complications that correlate with obesity.
Learn More