View All Articles
For Spina Bifida patients, a new program makes a tremendous difference as they age
The Spina Bifida Program at Orlando Health Arnold Palmer Hospital for Children continues to make strides to improve the health and quality of life of Spina Bifida patients both within the Orlando Health hospital system and the Central Florida community. The Spina Bifida Clinic at Arnold Palmer Hospital is a multi-specialty collaborative team of dedicated pediatric physician specialists and healthcare providers, including nurse managers, therapists and social workers that deliver comprehensive, quality care for our special kids and families. The program cares for children of all ages- from babies diagnosed in utero through childhood and into early adulthood- and has been serving the needs of Spina Bifida patients in Orlando for over 35 years.
The pediatric Spina Bifida Clinic team truly serves patients in a collaborative team approach. The post-clinic multidisciplinary conference, in which the providers meet together to discuss the needs of each patient, is the envy of many other programs across the country.
Over the years of serving these patients, our caregivers have recognized that a key aspect of Spina Bifida care is ensuring that patients continue to get the specialized treatment they need as they approach adulthood, which is a challenge for many patients with congenital illnesses. We have placed considerable emphasis on building and growing a transition care program for Spina Bifida patients to ensure that those who have aged out of our pediatric clinic can access quality health care as they transition into adulthood.
What is transition care and why is it important?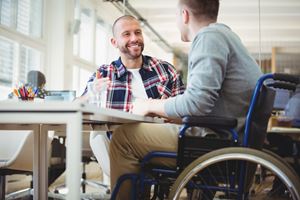 All patients need transition from pediatric to adult care. Thanks to advancements in modern medicine and technology, individuals born with congenital conditions like Spina Bifida are now living longer into adult age and require continued and specialized adult care for their complex medical conditions. Improvements in healthcare quality have led to a need to adapt and expand existing services for these patients, as well as assist them with other transitional psychosocial needs such as becoming a part of larger society.
For our aging patients, it is important that they not only know where to go for their medical care as adults, but that they also have resources and guidance available to help them become involved in their community, whether it be through job training or pursuing post-secondary education. Transition care helps bridge this gap, and it's a concept that's not only important for patients with Spina Bifida but a variety of specialized conditions.
The next milestone in caring for Spina Bifida patients
As we develop a new model for adult transition, we are now seeking funding to support and integrate a care coordination model at Arnold Palmer Hospital for conditions like Spina Bifida and other complex conditions that require transition services and care.
"We now can take care of Spina Bifida patients before they're born, as they grow through childhood and adolescence, and we need to take care of them as they age out and transition into adults," says Dr. Mark Rich, Chief of Pediatric Urology at Orlando Health and one of the champions of the Transition Care Program.
Currently the Transition Clinic team meets monthly to develop a transition plan for patients approaching adulthood and to organize and design the Spina Bifida adult transition clinic. The aim is to provide a seamless transition for adult patients. This clinic would allow adult patients to make one all-inclusive medical visit each quarter where they can receive care from multiple physicians and get connected to various resources and opportunities in the community.
What sets us apart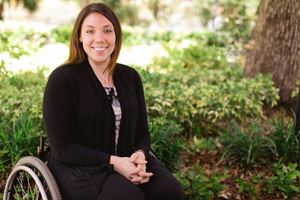 A major asset for our adult patients is our Spina Bifida Adult Transition Care Coordinator, Shannon Bevans. Shannon is a social worker who assists our patients who are aging and navigating the transition into adulthood as well as Program Coordinator for Orlando Health and the Spina Bifida Association of Central Florida. Through this new service role, she works to build relationships with adult providers and develop connections with outside agencies to be a part of this adult model of care. Shannon also works one-on-one with our adult patients to address their psychosocial needs and foster their independence. Shannon's transition services involve everything from holding classes for patients on how to use public transportation while using a wheelchair to working with patients on resumé-building.
Having a transition coordinator like Shannon allows us to go beyond the normal scope of care for our Spina Bifida patients, while meeting a need in our community that was previously unaddressed. Shannon not only serves in this role as a social worker, but she is an ongoing inspiration to our transitioning patients because she is also an adult with Spina Bifida.
"I'm the product of a very good transition, and I would not be where I am today without it." says Shannon. "I want to give that back to this population."
Shannon's professional and personal experience with Spina Bifida transition along with support of the Spina Bifida Program at Arnold Palmer Hospital and the Spina Bifida Association of Central Florida helps and inspires other individuals with Spina Bifida to accomplish their goals and continue to thrive.