View All Articles
Falling furniture or TVs can cause serious injuries to children
Did you know that every 24 minutes a child in the United States is injured after a television or piece of furniture has fallen on them?
These tip-over injuries are particularly troubling because, in large part, they can be prevented. But many parents are unaware of the danger of falling TVs and furniture- until, that is, their spirited toddler scales the bedroom bookcase.
Even as I write these words, I'm reminded that I, too, need to take a closer look at the furniture in my own home and revisit these safety concerns. When we see the same furnishings in our home day in and day out, we tend to overlook the potential for disaster; we're just used to seeing these things as nonthreatening stationary objects. But, if you take a second and look at the world from your toddler's point of view, you'll realize that if it stands still, it can be climbed. And if it isn't fastened to the wall, it can fall over onto an unsuspecting child.
Why your TVs and furniture must be secured
Take a look at this dramatic depiction of what happens when a child climbs unsecured furniture, courtesy of the U.S. Consumer Product Safety Commission: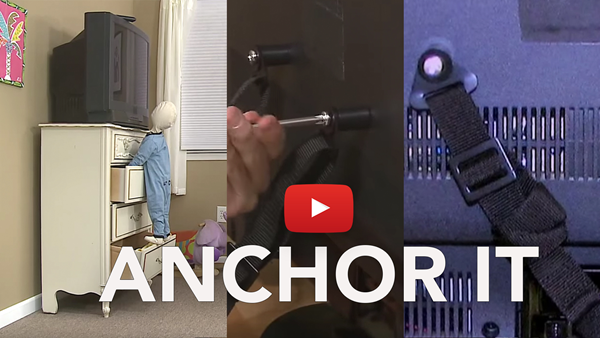 As you can see from this video, when a child climbs the furniture, the center of gravity shifts and the entire thing can tip over along with any items placed on top of the furniture, effectively crushing the child between furniture and the floor. A TV can fall with the force of thousands of pounds, and often serious head injuries occur.
On average, one child dies every two weeks in the U.S. after sustaining injuries related to falling furniture or TVs.
The good news, though, is that there are several ways you can prevent this from occurring in your home.
How to secure your TV and furniture
Here are some tips to be sure your furniture is safe:
- Place televisions only on furniture designed to hold a television, such as a television stand or media center. Don't place televisions on dressers, bookcases, tables or nightstands.
- Recognize that TVs placed on top of dressers are especially dangerous as children can pull out the drawers, allowing them to climb the dresser.
- Don't store desirable items (electronics, remotes etc.) that your toddler may want to reach on top of furniture.
- Understand that it's not just large televisions that pose a risk. Statistics show that many injuries take place with smaller TVs that have been placed in bedrooms.
- Flat screen TVs should be mounted to the wall or to furniture to prevent tipping over. Traditional television sets (also called CRT TVs) should be stored on low, sturdy furniture designed for a television set and anchored to the wall.
- Be sure that your furniture is also anchored to the wall. New furniture such as dressers are sold with anti-tip devices, and inexpensive anti-tip brackets are available for purchase for the existing furniture in your home.
- To purchase anti-tip straps for a television or anti-tip brackets for furniture, visit a home improvement store or search online retailers. Follow the manufacturer's instructions for securing furniture.
More resources
For more information on tip-over injuries and how to secure your furniture, visit the American Academy of Pediatrics at healthychildren.org or the Consumer Product Safety Commission at anchorit.gov.