View All Articles
Could your child benefit from the use of a wheelchair?
Early mobility is essential for growth of your child's brain and social skills. Children that are unable to crawl, sit by themselves or walk due to a medical condition do not naturally get that essential development. They may need a different way of moving about their world.
Some people think that having a wheelchair means that your child will not want to walk. Studies have shown that having a wheelchair does not limit the child from walking. Other factors such as growth, muscle strength, endurance and speed of movement are reasons that some children prefer to use a wheelchair rather than use a walker, cane or crutches. It is simply a different way to get around. Parents still have the choice of encouraging walking when the child has the strength and endurance to do so. Allowing your child to have independence in mobility will foster your child's sense of independence and inclusion.
Here are some questions to ask that may help clarify whether wheeled mobility is right for your child:
Are you using pillows, towel rolls or "pool noodles" to prop up your child in their stroller?
Does your child have a condition that prevents them from sitting upright or walking?
Does your child have a condition that causes them to frequently fall or get tired when walking around the house or down the street?
Do they get tired using their walker and can't keep up with other children?
If the answer to any of these questions is "yes," it may be time to consider use of an adaptive stroller or wheelchair.
How to choose what will be most helpful for your child
If your child could benefit from wheeled mobility, there are several types to consider: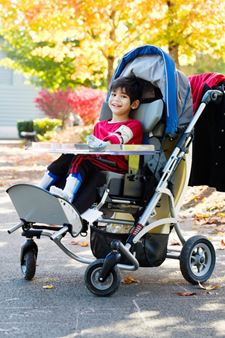 Adaptive infant strollers
This is a good option if your child needs more support than others to sit. If they have difficulties sitting, activities such as eating, reaching out to grasp toys, engaging with peers or taking a walk can be more difficult. An adaptive infant stroller can be one way of encouraging your child to sit upright, with support to their head and body.
The adaptive infant stroller or "early intervention wheelchair" uses a typical baby jogger style base. It can fold to go in the car, comes with sun shades and cup holders and can easily maneuver around the home or neighborhood. The adaptive stroller can provide support to your child's head, body or arms and can grow in both size and medical support as needed. For children who use a portable ventilator, oxygen tank or feeding assistance, special equipment can be included with the stroller.
Wheelchairs
Wheelchairs come in different shapes and styles depending on the needs of your child. They can be manual (the child or parent pushes it) or power (motorized). Wheelchairs can range from simple or complex, depending on the child's needs.
Typically, a child will need a wheelchair when:
they have outgrown their infant stroller, but still need support
they have a diagnosis that makes walking difficult (cerebral palsy, muscular dystrophy, spina bifida),
they have good use of their hands, but limited endurance for walking
they have had multiple surgeries that making walking difficult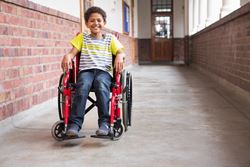 There are two kinds of manual wheelchairs-one that your child can push on their own and one that you can push for them. The one that you push for them can also tilt back to give your child help when they are tired.
Manual wheelchairs are lightweight, come in different colors and are easy to use. They can grow as your child grows and easily fold to go in the car.
A power wheelchair can give a child who is unable to push their own wheelchair, the freedom to sit upright, move around their environment and interact with others. Power wheelchairs can be driven through use of a hand-held controller (like a video game), head movements or eye movements. Technology allows the power wheelchair user to operate a computer, phone or communication device.
Special Options
There are also wheelchairs that can provide a combination of standing and wheeling, wheelchairs that fold and can be put in the trunk of the car and wheelchairs that have power seat elevation to be able to reach cabinets and drawers.
Cost of Mobility
Typically, your insurance will pay for a wheelchair if you have a doctor's prescription and letter from a therapist stating why you need the chair. At the Arnold Palmer Wheelchair/Seating clinic, we can evaluate your child and find out what type wheelchair is right for your child. The seating clinic is a team- with you and your child as the most important part of that team!
Want to know more?
If you have any questions or concerns or would like more information about a stroller or wheelchair for your child, please feel free to contact the Arnold Palmer Hospital Wheelchair/seating clinic at 321-841-1539.
We will be glad to answer any of your questions and guide you in your decision making.