View All Articles
A miraculous first year: Myles' story
Written by Katie Murillo
I had witnessed the scene many times before from my hospital room on the fifth floor of Winnie Palmer Hospital for Women & Babies. New dads loaded precious cargo into their cars in the parking lot down below as they prepared to take their babies home. They gleefully battled mylar balloons and stuffed animals while new moms cautiously guarded their newborns. After 29 days of calling Winnie Palmer Hospital home, I was wheeled out through those very same doors. However, as I exited my arms were empty and my face was stained with tears instead of smiles. Empty handed, I cried all of the way home, knowing that my son was fighting for his life in the Neonatal Intensive Care Unit (NICU).
Miracle Myles is born
During the NICU orientation, they prepare you to hear silence instead of cries in the delivery room. So on September 20, 2013 when I heard my son cry in the operating room, I knew Myles was a fighter. After four years of trying to get pregnant and one ectopic pregnancy, our miracle baby was born.
The operating room was busy, but the neonatologist, Dr. Hardy, made sure to tell me that the staff was taking care of Myles. The nurses quickly whisked him over in a "Jiffy Pop" hat so we could give him a kiss and send him up to the NICU. He weighed a hefty 1 lb 13 oz at 13.5 inches long.
My husband, Alan, and I were fitted with bracelets that identified us as mom and dad. And when I visited Myles for the first time after his birth, Alan and I were told that we had to limit contact with him to not over-stimulate his body. Sitting in NICU Pod 1 and watching our baby in an isolette, we knew that this would be the beginning of our journey. We were in the presence of a miracle, and so we nicknamed him "Miracle Myles." Later on, Chaplain John came to my room and asked if he could speak about Myles the next day at Miracle Miles, a fundraising event benefiting the NICU. Our son wasn't even 24 hours old, and he would already be an inspiration to people!
After four days in Pod 1, Myles was moved to Pod 3. He met nurses Brooke, Shelly, and Heidi and even made a NICU girlfriend, Sophie from Ireland. The NICU quickly became our daily routine, scrubbing our hands for three minutes and spending hours upon hours of kangaroo time with Myles. We watched as feeding tubes were changed, we were asked about blood sugar levels, and wrote down increases in feeds. I called at 3 a.m. when I couldn't sleep and took endless pictures of Myles grasping a pacifier bigger than half his face. His hands were barely the size of quarters and his diapers were like folded dollar bills. It was astonishing to see something so tiny fight every day.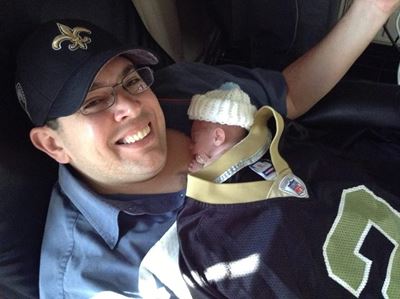 After three weeks he was moved to Pod 5, where he met Jackie, Megan, Sarah, Kady, and Lindsey. We finally had more hands-on time, and I looked forward to changing his diaper. I quickly learned that each baby progressed at their own speed; some babies were only in the NICU for a few days and some spent months fighting. Myles would do things when he was ready, and we were there to support him but not push him to do things he wasn't ready for.
We spent his first holiday, Halloween, in the NICU. We brought candy to the staff, and the nurses changed his "costumes." We celebrated with our NICU family. When football season started, Kady dressed Myles for game days in his FSU gear, and his dad watched football games with him during kangaroo time. The NICU had become an extension of our family.
It took Myles five weeks to learn how to drink out of a bottle. On November 11, 2013 Myles took out his feeding tube for the last time. He had consumed all of his feeds the night before for Sarah, and he was ready to take his car seat test. He passed his test with flying colors, and we were set to take him home on November 13, 2013.
Heading home at last
Alan taped the last time we would wash our hands in the NICU, he taped our daily walk through the hallway of pictures, and most of all he taped us exiting the hospital. After 54 days in the NICU and a total of 89 days at Winnie Palmer Hospital, we were all going home.
I walked out the front doors of the hospital, this time crying with tears of joy. Winnie Palmer Hospital became our second home. We may not have held our son first or given him his first bath, but we gained something so much more. We got to witness a miracle. Every day since his birth, I am amazed by his strength. He doesn't let anything hold him back. Our normal week is filled with doctor appointments, therapy, and full-time jobs. I still don't compare Myles to other babies; I let the doctors tell me if he is doing well.
On September 20th, we will celebrate Myles' first birthday by participating in Miracle Miles as team Miracle Myles. He has come so far this past year, and we can't wait to give back to our extended Winnie Palmer Hospital family. This first year has taught me that being a NICU parent doesn't define you, but it strengthens you.
Our miracle continues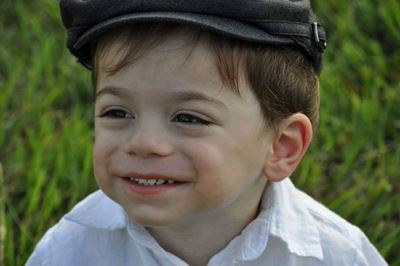 Now, at almost three years old, Myles is is flourishing. He loves music, dancing, Disney, reading and giving hugs. We still have struggles, common for NICU graduates, but we face challenges head on and full of love. Last year, Myles was diagnosed with epilepsy. However, you would never know everything he has gone through. Myles continues to learn and grow and is one of the happiest and friendliest kids you could hope to meet. He has so much love to give and joy to show the world. There is always a smile on his face!


Over the last couple years, we have continued to maintain our relationships with Winnie Palmer Hospital nurses and physicians. We continue to stay involved in fundraising events as a way to honor Myles and his caregivers. This September, we will participate in Walk For Winnie, a one mile walk through SeaWorld Orlando, followed by family friendly activities. Many NICU graduates and their families will reunite with their caregivers in an emotional, but fun, day of celebration. Myles, Alan and I hope to see you there!