View All Articles
A letter to other families battling childhood cancer
Written by Colleen and JP Wright, parents of Ethan Wright, Ewing's Sarcoma Fighter and to date, SURVIVOR
Ethan Wright, Ewing Sarcoma, Myelodysplastic syndrome (turned into AML) and Unrelated Bone Marrow Transplant, Survivor
May 2013, a date that forever changed our lives. Our son was diagnosed with Ewing Sarcoma Cancer and went through ten months of treatment, surgery and in February Ethan was declared No Evidence of Disease. For five months we tried to get back to normal only to discover treatment had left something behind. On July 31, 2014 Ethan was diagnosed with MDS and was told he needed a Bone Marrow Transplant to prevent this from becoming Acute myeloid leukemia. Ethan finally had a match and was set for a October transplant to only be told it was too late he had AML and would need to be in remission before his body could accept his donors bone marrow. Thankfully after one round of chemotherapy he was in remission and was able to receive his BMT on November 14, 2014. A long road later we are happy to say he is a Senior in high school and looking at Colleges to pursue a career in Sports Management.
These thoughts helped us in our long journey and hopefully will make an impact on you through strength and courage to face it head on.
Something was not right with our son, Ethan, and we needed to find out what was causing his pain. Life quickly became a flurry of emergency rooms, tests, nurses, doctors, needles, big words, and scary words. Then there were more tests, a hospital transfer, ambulance rides, and our other kids were still at home. What's happening? What's everyone not telling us? We just want to find help for our son.
Still searching for the answers we needed, we were faced with a new hospital, new faces, more big words, and even scarier words. Then more tests, scans, X-rays, and a transfer to another hospital floor. Pain. Our son is in pain! Please help us!
Biopsy day has come. Please let it be negative, please! Everyone pray hard. And then we got the answer we had been so afraid of cancer. Must stay strong - for our child and for our family.
It was at this moment that we were faced with one of the most difficult tasks we had ever dealt with as parents – letting our son know he had cancer.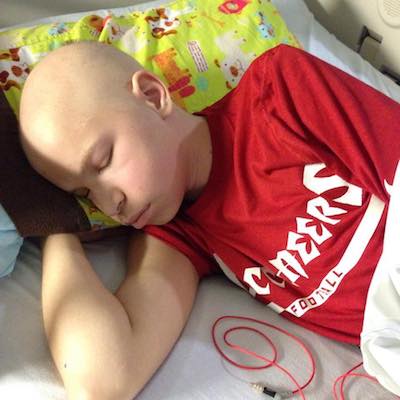 It was at this moment that we were faced with one of the most difficult tasks we had ever dealt with as parents – letting our son know he had cancer. Then, we had to do it all over again when letting our two daughters know their brother had cancer. Both of these instances were emotionally and mentally challenging. Suddenly, we became experts on our son's diagnosis in our children's eyes. They asked a lot of questions, and we didn't have all of the answers to. We realized that our daughters and son were looking to us to help them understand a very scary and unknown world that we were all about to enter.
If this sounds all too familiar to you, here are some things that helped us cope with this new reality and push forward when times were tough. Looking back over the year, we dealt with it the best way we knew how and just wanted to see our son get better.
Pray, a lot!
Pray for your child to be okay. Pray for your family and marriage to stay intact. Pray for the other children and families battling childhood cancer. Pray that fewer families will have to go through this in the future.
Look for support from family and friends.
When Ethan was first diagnosed, the oncology team at Arnold Palmer Hospital for Children gave us a roadmap, a plan that outlined what Ethan's medical journey would look like for the next 9 to 12 months. Life changed forever in an instant! We found that knowledge is power and inner strength comes from within and those around you. Our family and friends joined us in our fight, and helped us to be the best we could be while battling this awful disease. They were always by our side and lifting us up when we needed it. They allowed us to be strong for Ethan and stay by his side to be there when he needed us the most.
Embrace this new normal!
The doctors, nurses, other patients and their families become a part of you and your future. hey become your second family. Embrace those around you for comfort and distraction when needed.
Only research what you know is true in your case.
Limit your research to only educating yourself about the facts about your child's diagnosis, as the treatment protocol for each child varies depending on the child's age, gender, location of the disease, and if there are trials involved. Your mind will go to dark places, so trust yourself to ask questions and get answers from your child's physician. There are no wrong questions that can be asked, and if the answers don't seem right, ask more questions. Educate yourself on the meaning of medical terms, procedures, phrases, names of medicines, etc. to help you better understand what the nurses and doctors are communicating to you about your child's condition and treatments.
Ask for help and don't forget to take care of yourself.
Your child will depend on you now more than ever, so you need to be healthy yourself. A healthy you is one step closer to a healthy child! Take a lot of pictures of those you love and all the happy moments, because they will become part of your story. Make sure you continue to make plans in the future, even if it is only in a couple days, a week or a month. Just like in life, plans change, but it is important for you and your child to look to the future so you are reminded that there is more to your family's life than just cancer and hospitals. It won't be easy and your family's schedule will suddenly be written in pencil (even simple things like going to the grocery store sometimes need to be erased).
Get plugged in.
There are many organizations, foundations and groups specific to helping families with children battling cancer. They are there to help you with the means to make your child smile, and even to help with expenses - both medical and personal. On the good days, make new memories and embrace each moment. You will find that suddenly, a simple walk outside around a lake on a nice day can be like going to Walt Disney World for the first time.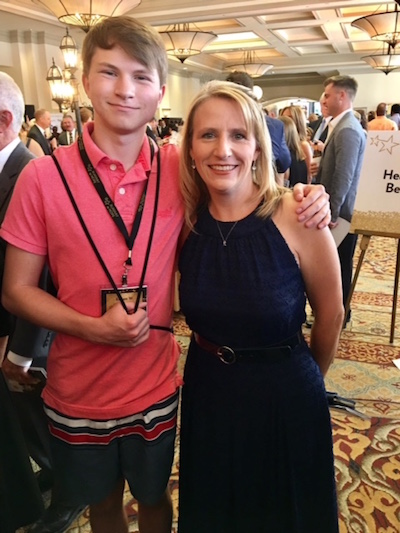 There will certainly be ups and downs, frustrations and triumphs. As a parent, you have the opportunity to become humble and make sacrifices for your child in ways you didn't know you could. But you will become a better person for it! Your emotions will become a roller coaster ride, but know there is support all around you if you seek it out.
People you have never met before will become the people you rely on, as they too are going through a similar situation. Your heart will break, as not all children will survive. Know that no one's battle should be without a purpose, as each family has a message to share. Let this truth motivate you to help not only your own family, but others as well. We are all in this together! The more we learn, talk and share about children's cancer, the more research and facts can be gathered and shared among the children's cancer medical community.
No one wants children to suffer and go through the rigorous battle against cancer. Everyone's journey is different, but together we are strong. Many of the families affected by childhood cancer at the hospital and in our community rally to raise crucial funds for children's cancer research so that better treatments and even cures can exist in the future. This must happen - it will happen so that other children will not have to go through what our children have today and in the past.
Never stop telling your story because you never know whom you may help. And always remember to keep moving forward for yourself, your family and your child!