View All Articles
OCSC Player Shane O'Neill: From Good Mornings to Game-Winning Goals
Professional athletes know pregame preparation starts well before they step onto the field. From a healthy diet and sleep regimen to a balanced morning ritual, Orlando City Soccer Club player Shane O'Neill has developed some great strategies for game day. It isn't all about hard work and self-discipline, though. For kids looking to increase their success in sports, O'Neill's message is a simple one: Relax and enjoy the game.
How do you make sure you start your day off right?
Focus on decompressing. I like to give myself a little bit of time to wake up, usually by having a coffee and reading a bit. I usually like to go out and eat a nice breakfast if it's a game day. Then I relax by doing some stretches for 10-20 minutes. This activates my body. Then it's on to a light and easy lunch before going in for the pre-match three hours before the game starts.
What does your daily regimen look like on a game day?
During a warmup, my OCSC teammates and I really start to kick up the activation and stretching. I may even jump on a bike and do some cycling. After that, we're ready to rock and roll! Even though there's nothing too crazy about my regimen, it is important to have one. For me, it comes down to simplicity and consistency, a lot of coffee and plenty of downtime.
How can kids be more successful on the field?
It's important they just keep it easy and straightforward. Focus on getting lots of sleep, which aids in recovery and ensures you wake up with lots of energy. Cut out any unhealthy foods (and that includes the sugary stuff). That means taking fewer trips to McDonald's and Wendy's! Try adding a lot of fruits and vegetables into your diet instead.
Here's a tip to always keep in mind: Don't forget to have fun and enjoy the game. Play free and play bravely. That will help you get the most out of every moment on the pitch. It really is a blessing to be able to go onto the field every day as part of my job. I'm very grateful for that.
Don't forget to have fun and enjoy the game. Play free and play bravely.
Why is getting a good night's rest so important?
Look at the science behind all of these crazy muscle-recovery technologies — ice baths and cryotherapy and the like — and you'll see it still comes back to getting a good night's sleep. There's no substitute for that.
If you want to be fresh and mentally sharp, getting your rest is absolutely vital. If you want your body to experience a lot of recovery, keep your bedtime consistent. When you go to bed at 10:00 pm one night and 1:00 am the next because you stayed up too late playing Fortnite, it's tough to feel your best.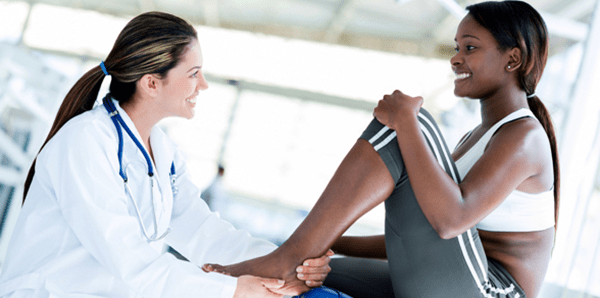 Get a Free Guide to Prevent Sports Injuries
While exercise and sports-related activities often have a positive impact on our lives, they can also lead to serious injury. At the Orlando Health Orthopedic Institute, our multidisciplinary sports medicine team is committed to providing exceptional orthopedic care to help you return to your active, pain-free lifestyle.
Learn More