View All Articles
How do you choose which hospital is best equipped to care for your family?
All it takes is a drive down Interstate 4 to get a glimpse of the healthcare landscape in Central Florida. You'll see a variety of billboards that boast the expertise of different hospitals, urgent care facilities and medical practices. Sometimes it feels like everywhere you look somebody is trying to sell you some kind of health-related product or service.
While many people choose medical care based on the look of a particular facility, the convenience of an office location or a friend's recommendation, those aren't my primary concerns. I want to know which provider or which facility is going to offer the best, most up-to-date medical care and is going to provide for my safety and well-being above all else.
I can't trust a billboard or a magazine ad to offer a reliable and unbiased opinion on such a critical decision. So how does one go about making an informed decision about medical care? While there's no one-size-fits-all answer, here are a few things I've learned over the years as I've navigated the healthcare system both as a healthcare professional, patient and parent.
Where can I look for independent assessments of a hospital's safety and quality record?
If I were moving to a new area where I knew nothing of the hospitals or care providers, here's where I would begin my research in looking for quality healthcare services.
Determine whether a facility is accredited by

The Joint Commission

, an independent nonprofit organization that accredits and certifies nearly 21,000 healthcare facilities in the United States. Joint Commission accreditation is recognized nationwide as a symbol of safety and quality, and is arguably the most influential and widely respected measure of quality medical care.
To determine whether a hospital is accredited by the Joint Commission, search

qualitycheck.org

to see if it is designated as a Gold Seal Health Care Organization. Some health care entities may even be designated as "a top performer," meaning they have earned some of the nation's highest scores for safety and quality. (See

Health Central Hospital's

designation as a top performer for key quality measures

here

).
Compare the Leapfrog Hospital Safety Grade of the hospitals in the local area at

Hospitalsafetygrade.org.

The Leapfrog Group is an independent, nonprofit organization that compiles safety and quality data from thousands of hospitals nationwide. The safety score reflects the hospital's practices and performance in minimizing errors, injuries, accidents or infections in the course of medical care.
Recognize, though, that these rankings are not directly measuring safety and quality like the other two organizations listed above. The U.S. News rankings are primarily developed by conducting detailed surveys of area physicians and reports a medical program's reputation with the physicians in the community. This, in turn, should be a representation of the program's quality.
Pool the results from each of these outside sources to gain a better perspective of the quality of health care services offered in your area. Use these resources to help you outline detailed questions to ask of potential healthcare providers based on the individual medical needs of your family.
Special considerations for pediatric hospitals and maternity care
When it comes to maternity and pediatric hospital care, use the resources above but be sure you are comparing apples to apples. If a pediatric or maternity hospital is part of a larger hospital system, make sure you are examining the measures specific to children or maternity care instead of the health system as a whole.
Look for providers who specialize in pediatric care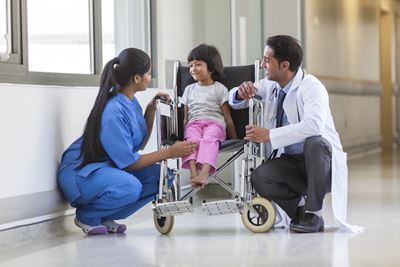 Often hospital systems that house pediatric care within an adult hospital utilize providers who treat both adults and children. While some providers may be board certified in both pediatric and adult medicine, this often isn't the case; as a general rule, providers who treat only children are better equipped to handle the intricacies of a child's medical care. Children need different sized equipment, experience illness in different ways and metabolize drugs differently; they need medical providers who are proficient in pediatric medicine and facilities that accommodate their specific needs.
Find out how many pediatric patients are treated
It's a generally accepted principle in medicine that the more patients of a specific type that a physician treats or that a hospital cares for, the more proficient they are in the care of that type of patient. If your child is potentially having surgery at a hospital that serves both pediatric and adult patients, it is reasonable to ask the anesthesiologist how many pediatric patients he or she treats each year or what percentage of their patients are children. If there is a hospital dedicated solely to pediatric care with anesthesiologists who specialize only in the care of children, that's the best bet for your child.
Look for comprehensive teams dedicated to a disease or procedure
When your child has a serious illness, it is likely there will be a group of specialists needed. Look for pediatric centers that have developed multidisciplinary teams with a group of specialists who work together to address various aspects of the disease. A hospital who sees enough of those patients to have a dedicated center is likely to see a greater volume than one who doesn't. The team approach also makes it easier for patients to get the care they need without the hassle and facilitates communication and coordination between providers.
Seek advice from advocacy groups and other parents
If your child has a serious illness, reach out to advocacy groups. There are local and national groups for those with congenital heart disease, diabetes, genetic disorders, rheumatoid arthritis and many others. You can find helpful information online or in person at local chapter support groups. Ask what quality measures to look for in a medical program, what social and developmental support may be needed and where it is offered, and for personal recommendations based on experience.
Consider a worst case scenario
It's not something we like to think about often, but one of the ways I make decisions about medical care for my family is by creating a contingency plan in case the worst should happen.
For example, when I give birth to my third child this year it will be at Winnie Palmer Hospital for Women & Babies. Even though I have friends who speak highly of other hospitals or birthing centers, I plan for what is best in case the unthinkable happens.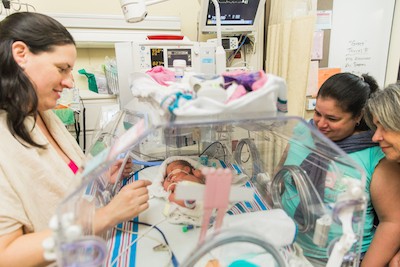 Winnie Palmer Hospital houses a state-of-the-art, Level-III Neonatal Intensive Care Unit. This means that if my baby has any trouble when he is born, a neonatologist is steps away and can evaluate my baby within minutes. And if my baby does need to be cared for in the NICU, I will be receiving care in the same building. Many mothers-to-be don't realize when they give birth at other hospitals in the area, if their child needs care in the NICU the baby will be transferred to a separate facility across town. Their significant other will then have to choose whether to go with the baby or to stay with the mother. Your family will be divided during one of the most trying times in your life, and it's not ideal for anyone. When I choose maternity care, I look for the place that is most equipped to handle any emergency that may come about, even though I hope I never need those contingency plans.
Ask your physician what plans are in place in case of unforeseen complications
to help you choose which providers and facilities are equipped to offer the best care.
This same principle can be applied elsewhere, too. If your child is having surgery, ask whether the hospital is equipped with a Pediatric Intensive Care Unit, just in case it is needed. For patients with cardiac problems, perhaps you might seek a hospital with a specialized Cardiac Intensive Care Unit. Ask your physician what plans are in place in case of unforeseen complications to help you choose which providers and facilities are equipped to offer the best care.